American Flag Pallet
I love the American flag!  I love what it stands for, I love the colors, what each element stands for, just everything about it.  I love America period.  I get misty eyed when I hear the National Anthem and think about what it means.  I remember as a child in school, standing proudly saying the Pledge of Allegiance while looking at the flag.  I have a hard time believing that kids now don't get a chance to do that because it might offend someone!  PLEASE!!  If you don't love this country, you're free to leave.  This American Flag pallet gets displayed at our house a few times per year.
Now that I'm finished with my rant, we can dive into the process of making this flag from a pallet.  I might mention that this particular pallet was already the perfect size and the slats weren't as far apart as many of them are, so no adjustments were needed, only removing some vertical slats.  You just have to look around for pallets, they come in many shapes.
I made this project prior to July 4th.  I like for my house to be at least a little patriotic for the time surrounding the 4th.
*Caution, photo heavy*
This is how the pallet started out.  I had to pry off those side pieces and fill holes.
It is important to know where your pallet came from and how it was treated.  This one was Heat Treated, indicated by the "HT" brand.  To learn more about how to read the labels on pallets, check out 1001 Pallets.
I filled the holes and imperfections with wood filler, then used an orbital sander to make it smooth.
Following the sanding, I used a white primer and covered only the front surface of the wood.
The blue paint I used was just craft paint.  I didn't have any outdoor blue paint.
After the blue was dry, I put the tape over the blue to make a crisp line between it and the red.
Make sure to stroke away from the tape so minimal paint will get under the tape.
While the red was drying, I used my Cricut die cutter to cut out a strip of stars so I could use the negative as a stencil.  I used some clear shelf liner over the top of the paper, to give the stencil some integrity.  I sprayed the back of the stencil with an adhesive so it wouldn't move around on me while I was painting.
I didn't have a piece of paper long enough to cover all the area I needed, so I used a couple of pieces and just taped them together.
As you can see, I used a sponge to pounce the paint into the cutout areas because you don't want the white to seep under the stencil.
After everything dried, I thought the American flag pallet was too stark, so I proceeded to distress it a bit.  I used the orbital sander and knocked down some of the paint and made sure I got the corners too.
You can just sand as much or as little as you want.
The next step in the distressing process was to add some stain.  I didn't have any medium dark, so I just went easy with the dark.
Make sure to use gloves!!
I sprayed a clear sealer on it that was recommended for outdoors and hung it in a prominent place.
The American Flag Pallet is in it's place!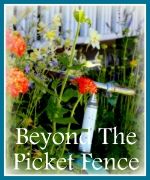 I linked up with "Beyond The Picket Fence"
Post Footer automatically generated by Add Post Footer Plugin for wordpress.
Please follow and like us: